Generation Smartphone Millionaire
Hey guys, I came across a very interesting article in Success Magazine on Sept 27, 2018. It is about the article "Generation smartphone millionaire". The article is about Lukas Spies, a young guy who grew up in network marketing with the help of his smartphone.
He also wrote a book about it.
Here is the article from the Erfolgs Magazin:
ERFOLG Magazine 27 Sep 2018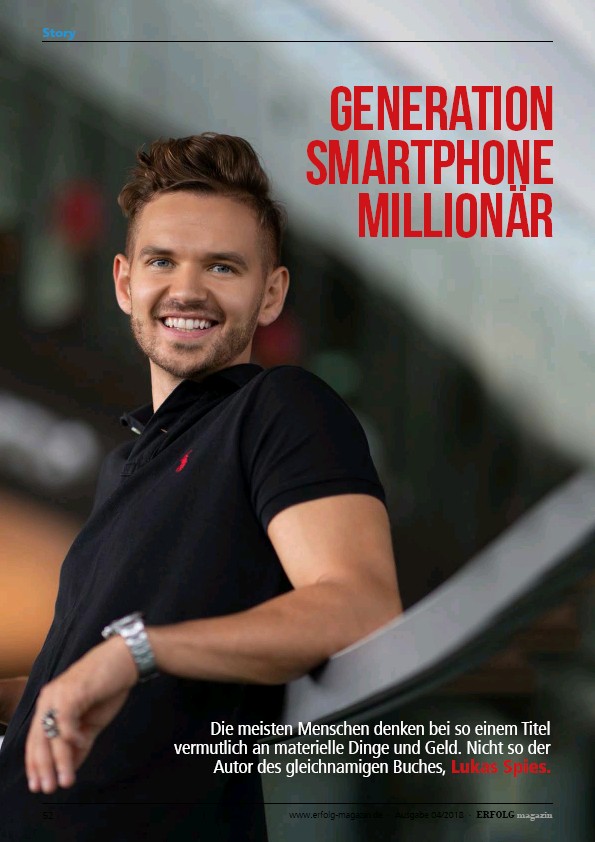 "At some point: Do I want to work for Porsche or drive a Porsche at some point?"
"Anything is possible in this day and age. It has never been so easy to start your own business and break out of the routine and dreary daily routine".
Having grown up in the Swabian catchment area of Stuttgart, the absolute exceptional talent of Lukas was someone who already broke boundaries in his early childhood, always tried out new things and was extremely active. A life in the standard grid was out of the question for him. He wanted a life full of self-realization and freedom. But after graduating from high school, he did not know what profession could take him where he wanted to go. In his opinion, most Geny and Genz´ler today see themselves facing the same challenge. "The world of work and many companies are not yet adapted to the needs of these generations and to their view of fulfilling work". Since social projects and social commitment are among the most important things in his life, he decided to complete a voluntary social year and work in a children's home in Cape Town, South Africa. This time helped him to decide on a path and so he began a commercial apprenticeship at his favourite car manufacturer Porsche with a very clear goal: CEO. He went to work with great ambition and commitment and planned to complete his studies there and earn his doctorate at the age of 30. He soon found out for himself, however, that classical employeeism would not lead him to the successes he wished for in his life. "At some point: Do I want to work for Porsche or drive a Porsche at some point?"
In December 2014, a friend told him about a business opportunity in fitness and health. He was invited to a business presentation at Mcdonalds, which was all about network marketing. Luke had never heard of it, but was immediately passionate about the idea of self-realization and the possibility of building a passive source of income. The initial scepticism, which almost everyone feels when they get to know Network Marketing, was in Luke's case absolutely not about the business model or the people who introduced him to the business, but only about the fact that the apparently greatest opportunity in his life seemed to be within reach and the path was a completely different one than had always been preached to him before. He recognized in it his chance, which coincided with his plans of the future. He liked the principle that rewards motivation. After bumpy beginnings, in which he could show a cheque of just 19,86€ after four months, he decided to go all in. He never wanted to have to say in his life, "I wish I had." In the following four and a half years he became the most successful sales partner under 30 in his company and belongs to the Top 5 in
the whole of Europe. At the age of 25, he achieved what very few ever achieved: building a network of 100,000 customers and partners. Since then it has grown by several thousand every month in Europe and 21 countries worldwide. This makes him one of the absolute elite in the industry even at a young age.
However, he believes that this is just the beginning: "There are so many people out there, especially young people, who are just looking for alternatives and we are meeting the ravages of time with this business model in the healthcare market. Nevertheless, he also sees a clear change within the industry, to which both companies and sales partners must adapt. "The world is changing so fast these days. The goal is to build a long-term business for the coming decades. This will also change the industry Network Marketing. In the future, the main focus will be on building a customer-oriented business that has the character of e-commerce rather than classic multi-level marketing.
Lukas Spies and his team were the first in German-speaking countries to use social media completely as a multiplier and lever effect. He continues to see the greatest opportunities here, since the social media have become an indispensable part of our communication. "Anything is possible in this day and age. It has never been so easy to start your own business and break out of the routine and dreary daily routine"His greatest motivation is to offer other people the opportunity he has seized himself. "Seeing how other people develop and helping them develop their potential simply makes me extremely happy," he says.
The publication of his first book was another dream for him, which he has now fulfilled. In it, he describes his path and goes into detail about the things that are necessary to build such a large business. For him, the title "Generation: Smartphone Millionaire" stands less for having earned one million in network marketing than for being able to positively influence millions of lives and make a difference with the smartphone and social networks. There are many success books, but none that were written by someone so young - with proven successes - and that are so exactly in tune with the spirit of the times. Lukas puts himself in the position of the people who want to start a business nowadays, because he lives through all facets himself.
...has.
Here is the link to the article:
https://www.pressreader.com/germany/erfolg-magazin/20180927/281595241449444
Here you can buy the book:
https://www.amazon.de/Generation-Smartphone-Million%C3%A4r-Network-Marketing-verwirklichst/dp/3941412949
I think this article is very good. Because what do we spend more time with than with our family, with the mobile phone. There are now more mobile phones than people on earth and even more Internet access in the world than running water or toilet facilities. Mobile phones and the Internet are available all over the world.
Think about it, we could make money with it and fulfill all our wishes. The
means we would be free and flexible everywhere and could be the person we've always wanted to be.
I wanted to be. We could be who we've always wanted to be with and do what we want to do.
would it not be awesome?
And that's the kind of app I found. She's coming to market this fall. So get the information about this app now.
Have I aroused your interest? If you want more info Click here and you get all the information directly in your Facebook Messanger.